[News Headlines]
[Panto part II]
[Panto part III]
CINDERELLA DID GO TO THE BALL

. . .

Updated 10th December 2009



Three pages of pictures from the Farringdon Production of Cinderella which drew to a successful close on Saturday night after four perfomances to enthusiastic audiences. A tremendous amount of work from everybody involved, both on and off stage resulted in a spectacular, success for the Village Pantomime

There was one minor crisis on Saturday night when the cast became extremely concerned that the beer consumption by the audience in the interval might lead to a dry after show party but fortunately there was just enough left to send everyone home, exhausted but happy.

For some inexplicable reason the Biz photographer failed to take any pictures of the show but, thanks to Sylvia Goodall, we do have some photos so there a now three pages of photos posted up for your perusal . . . .
The Farringdon Village Production
of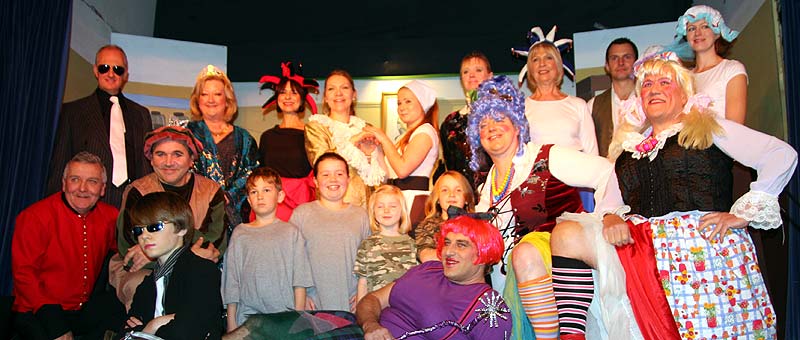 With everybody seated the William Godfree Ensemble launched into the overture as the actors prepared themselves for the performance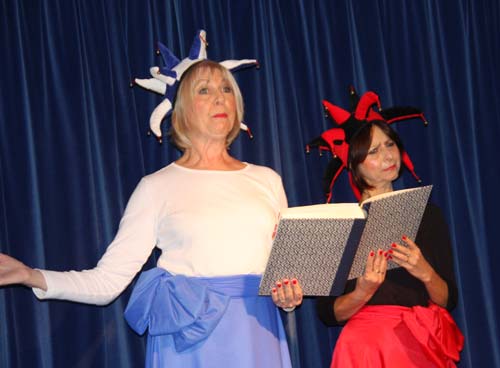 And so let us begin our tale , -
The Story Tellers (
"Perhaps we should hold a ball", Prince Charming () and Dandini () outline their plans.
"I'm a bit Hardup at the moment" The Baron () details his financial woes to a sympathetic Cinderella
() while Buttons () pretends to be part of the scenery.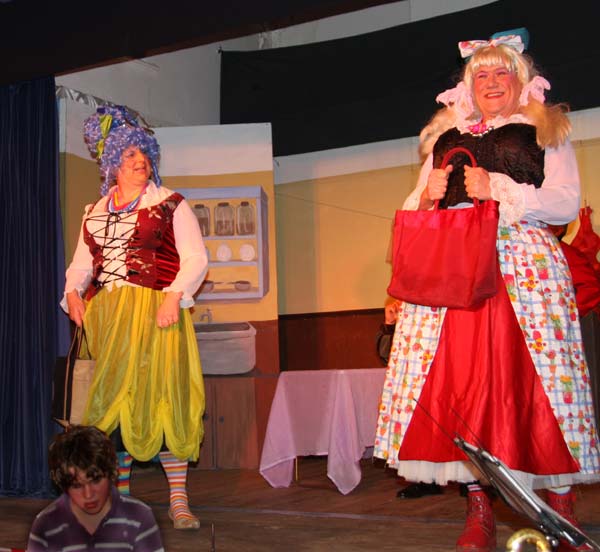 The reason for the financial state soon becomes obvious to all when these two ravishing beauties appear on the scene.
The stepdaughters of the Baron, Salmonella,
() and Barbarella () are ready to hit the High Street and are not going to let a little problem like a cash crisis get in their way.
While Cinders trails off to the shops after her step sisters The Baron and Buttons launch into song, almost in unison with the orchestra, although not necessarily with each other.
"What do you want?"
"A pint of Pride and a packet of pork scratchings"
The Baron has a little trouble with Mr Darling () and . . . .
. . . . . Mr Brown (), two very shifty looking broker's men.

Reinforcements in the ample shape of the Baron's stepdaughter's, Barbarella and Salmonella, are called in to gain the upper hand
Later, in the Market Square Prince Charming and Dandini are handing out Ball tickets to all the ladies () while villagers David and Angela Estyn-Jones and Ase Feiring keep a watching brief and SOME people are not being very nice to Cinderella
" It says Ball Gowns and Cinders hasn't got one" . . . The not very attractive sisters are about to make Cinders very unhappy by ripping up her invitation - BOO HISS etc
"Here we have a wicked deed" . . The Fairy Godmother () and her ravishing assistant Wanda* () are on hand as Cinders is left to pick up the pieces
* ()
"Oh dear, I appear to have dropped some sticks" Marianne Prynne's Fairy Godmother, () tests Cinderella's character by surreptitiously dumping a load of firewood.in front of her.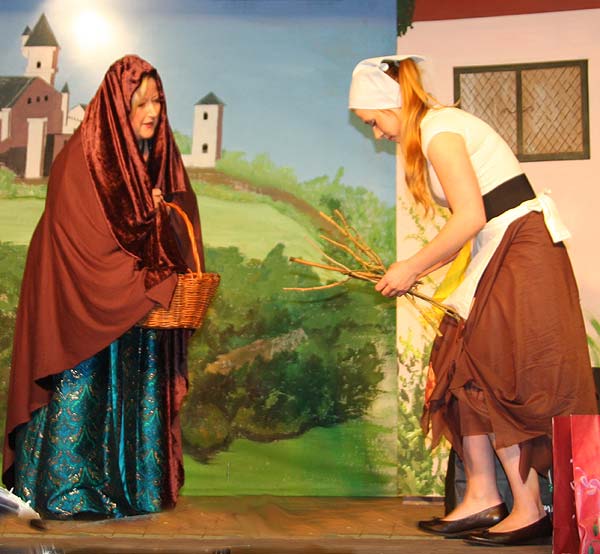 Cinderella, immediately rushes to her aid little knowing what her reward will be for such an unsolicited act of kindness.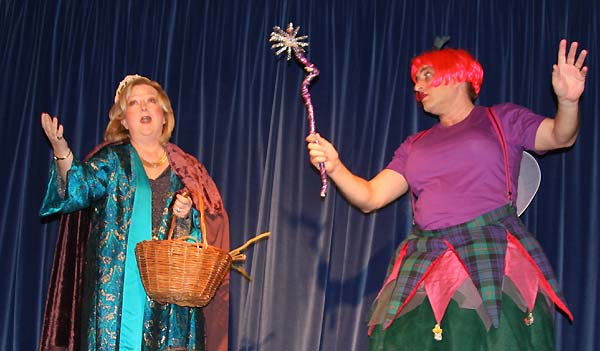 "When you wish upon a star" Safely reunited with her sticks the Fairy Godmother and Wanda burst into song while, behind the curtain, the stage crew leap into action with a frantic scene change.
Will the Fairy save the Day?
Will Cinderella make it to the ball?
[Find out here]
N.B There are no more Panto Rehearsals in the Village Hall
(Therefore We SHALL go to the pub)
©