The signal to form an orderly queue for service also heralded the arrival of a short, and fortunately fairly light, shower.

At which point, those who had taken the precaution of equipping themselves with umbrellas were proved to have made the right decision.
Fortunately, it was only a brief shower and nothing like enough to dampen the enthusiasm of the revellers. . . . .
. . . . . . and the bottle stall (below) simply changed shifts and continued operating with Wendy, (who I am reliably informed is becoming something of an expert on Goldfish,) in temporary charge of the basket containing the draw tickets, leaving Anne free to operate the official umbrella and encourage James to risk a £1 on a ticket. (He doesn't look entirely convinced!).

Meanwhile Andrew and Peter
were in deep discussion,
possibly about the Folly?
There was a noticeable lull in conversation as people tucked into the meal, but as the food and drink flowed the conversation level revived and the rain cleared, much to the relief of everybody, especially Parish Council Chairman Clive Elderton as he was introduced by MC David Horton.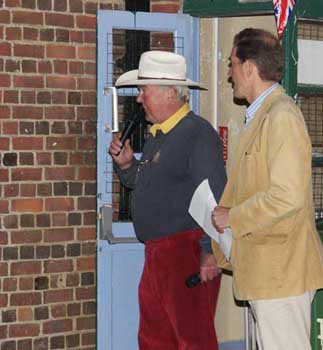 Clive took the opportunity to thank David and Cally Horton and the willing helpers of the Village Social Committee for organising and spending so much time preparing and running the event, an so say all of us.
Clive also praised previous and current Village Hall Committee members who had kept the hall running over the years and congratulated Peter Durrant,
current VHMC Chairman and Caroline Roe, Clive's predecessor as Parish Council Chair, whose prolonged negotiations had enabled the sale of the Folly to be completed.
Also singled out for praise was David Wiiliams (left) for the many hours he had spent repairing and maintaining the Fabric of the Folly over the years. Much of that time was spent on the roof which did manage to keep most of the water out of the building
As the Hall is to be sold the two employees will eventually be made redundant, one, of course is David Horton, who for the last two years has been employed as Hall Manager.
Clive thanked him for all his efforts to promote events in the Hall during his term as manager to maintain some income for the Village Hall.
The other village hall employee was Jenni Baumber who has kept the hall spick and span for the last ten years and for even more years was the booking clerk in the days when the Hall was in frequent use for various village events.

In recognition of her efforts Jenni was presented with a bouquet by Village Hall Management Committee Chairman Peter Durrant under the watchful eye of David and Cally Horton .
Clive ended with a reference of the Village Hall that is yet to come and although there as yet no confirmed plans he urged all present to become actively involved in the project, essential if the Hall is to meet the needs of the Village in the future.