The January Garden
This month can be dark and grey, why not invest in a few plants that 'Strut their stuff' now.
At this time of year, many small bulbs and corms are getting ready to burst onto the scene. Snowdrops, Aconites, Ipheion, and Chicnodoxa. The Snowdrops are the best known with their pendant pristine white flowers.
GALANTHUS (Snowdrop) nivalis.
These charming little bulbs are very accommodating and will grow almost anywhere. Their favoured place is dappled shade and damp soil. They don't enjoy hot dry places.
Always plant them in 'In the green'. 'In the green' means bulbs that have flowered but still have green leaves.
The small dried Snowdrop bulbs often sold in garden centres rarely survive, if they do, flowering is usually poor. Most gardening magazines will have 'In the green' bulbs for sale in February/March/April. Your order will come by post.
Plant them as soon as you can to stop them drying out. This method is recommended and highly reliable:- Plant 3mm deep in groups of 3 or 4 bulbs about 4 inches apart.
CORNUS 'Midwinter Fire'
Small deciduous shrub grows to 1 metre tall; buttercup yellow leaves in the autumn, when fallen the stems turn bright yellow through to pink, orange and red. This lasts until new leaves appear. Prune the thickest stems down to 15cm from the base every 3 years, and cut off any suckers that might shoot up.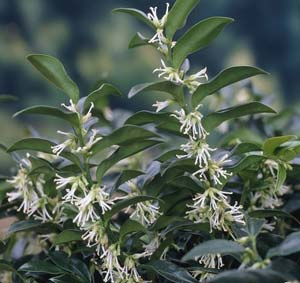 SARCOCOCCA 'Humilis' (Christmas Box)
Small evergreen shrub with shiny leathery mid green leaves. Covered in small pinkish/white and very highly scented flowers. Flowers from January to March. Grows to 1metre tall. Plant near the house or next to a path to take advantage of the strong scent. Cut a few sprigs and bring them into the house, you will not be disappointed.

CLEMATIS CIRRHOSA 'Freckles'
Evergreen ferny leafed climber with creamy/pink flowers followed by attractive seed heads. Spreads 5ft by 8ft high. Can be reduced in late spring or summer by trimming back.

All the above plants can be grown in good garden soil. If you have heavy clay dig over the planting area three times the size of the pot holding the plant, incorporate one bucket of compost to lighten the soil. Keep all newly planted plants well watered in hot summer weather, damp not saturated.