Thanks to Claire Wallace for these pictures of Farringdon in the snow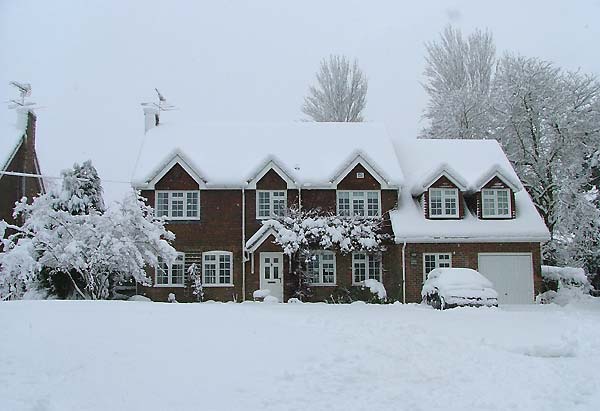 Houses in Hall Lane get a festive covering of snow, albeit a few days late, although the covering on the sloping drive might make the return home with the car a tricky exercise in the conditions

Some cars were just not going anywhere, probably a wise decision in the circumstances as those that were forced to venture out ran into all sorts of problems

Farringdon's taxi service was not going to let a little snow get in the way of their impeccable service but the Court's Cars Mercedes was forced to park up at the bottom of Church Road,unable to negotiate the inclines to the Street from either Church Road or Crow's Lane. Rumour has it the new slimline Clive was seen jogging home to set out in the alternative vehicle.

Perhaps Clive should invest in one of these, which will go almost anywhere and also knock the snow of overhanging branches. The only drawbacks being the lack of passenger accommodation and a top speed of 30 mph which would make the airport run a long winded affair under normal circumstances. Mind you who would want to get into the cab with this driver under any circumstances.

The hedges of Holly Cottage are sagging slightly under the weight of the snow, in common with many other hedgerows around the village. But the weight of snow did cause some broken branches.
In Church Road a fairly hefty branch had come down on the road, fortunately there was no one under it at the time . . . . . .

. . . . . and in the Church Yard, young Alex looks very serious alongside another casualty.

Also in the Churchyard was Hugh Bevan, wearing appropriate headgear, taking a shovel to the snow covered paths; clearing the way to the Church door for the parishioners.

Hugh had a fair quantity of snow to shift as demonstrated by Alex and Claire. As Claire is in the picture I don't know who to credit for this photo but the mystery photographer obviously returned the camera as there are more pictures below.

In common with every other house in the village, Jordans has its fair quota of snow on house and hedge.

These two obviously failed to notice the snow until they were well covered. The tall one seems to be enjoying the experience but the short one? He or possibly she, I suppose it only matters if you are a snowperson, appears to be suffering the prolonged after effects from over-exuberant New Year celebrations

The new play area at Shirnall Meadows might be covered in snow but it provides a ready source of ammunition to hurl at your friends and keep warm on a chilly day. Now who is going to get the benefit of this one?